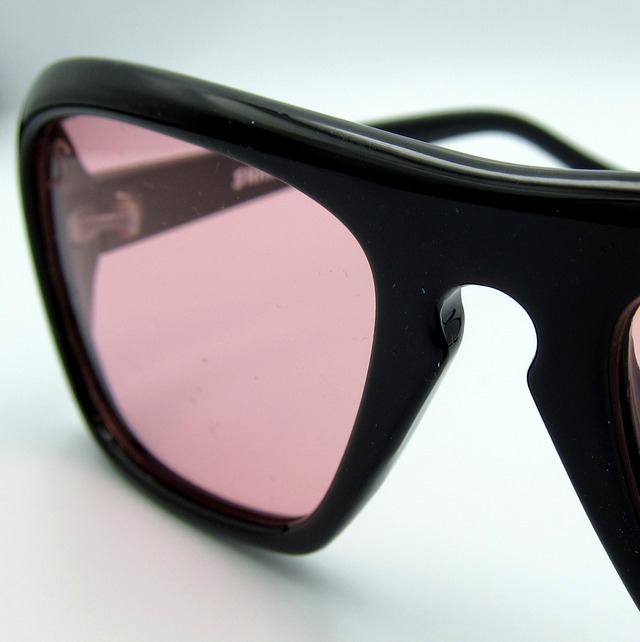 Shady Spex "Kid Congo" sunglasses, Black w/Pink lens
シャディスペックスのニューモデル第8弾、キッドコンゴです
ザ・クランプス、ザ・ガンクラブ、ニックケイブ&ザ・バッドシーズやキッドコンゴ&ザ・ピンクモンキーバーズでの活動で知られるギターヒーロー、キッドコンゴパワーズがネーミングの由来。キッド自身が愛用する70年代イタリア製フレームデザインを元に、シャディスペックスと共同開発したフレームは、ウェイファーラーとアビエイターのちょうど間のような雰囲気を合わせ持つエレガントなシェイプ!
シャイニーブラックフレームにライトピンクレンズ

These sleek, sexy, stylish s-s-spex were developed in conjunction with prolific music/culture legend Kid Congo Powers of towering musical aggregations such as The Cramps, The Gun Club, Nick Cave and the Bad Seeds, & Kid Congo and the Pink Monkey Birds. Shady Spex joined forces with Kid to develop a new frame inspired by the guitar hero's favorite pair of 70's Italian frames. For those who can't decide between a wayfarer or an aviator style, you've finally found a distinctive yet elegant alternative that sits somewhere between the two. And while you'll never be as timelessly cool as Kid Congo Powers, it doesn't mean your sunglasses can't come close! feature 50mm width lenses. Both lenses laser etched with Micki Pellerano's slithering Shady Snake! Inner arm sports fine artiste Avi Spivak's custom logo! Made with recycled materials and they are recyclable! And they arrive comfortably nestled inside a Shady Spex logo soft case. Sunglasses after dark! So sharp! You'll be cool and the squares'll drool...
Add to Like via app
Reviews

(124)

Shipping method / fee

Payment method