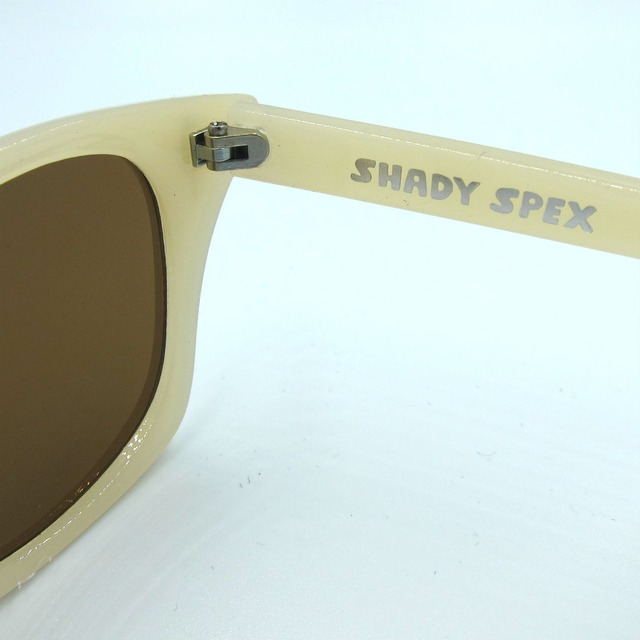 Shady Spex "MEOW" sunglasses, Bone w/Polarized Brown lenses
SOLD OUT
SHADY SPEX(シャディ・スペックス)

ニージャージーのアズベリーパークでビンテージショップのオーナーでドラマーでもあるSweet Joey Valentineと、ニューヨークでソウルミュージックDJとして活動するJonathan Toubin (New York Night Train)による、新しいサングラスブランドです。JoeyはサングラスブランドDitaで働いていたこともある人物。

ニューモデルMEOWです。デビューモデルであるニューヨークナイトトレインをユニセックスなスタイルにした雰囲気で、ミッドセンチュリー感漂うキャットアイシェイプ。
リサイクルマテリアルを使用したサングラスです。
ブラウンカラーのレンズは100% UVカットの偏光レンズを採用。

テンプル内側のブランドロゴはアーティストAvi Spivak(www.avispivak.com/)、リム両サイドのトレードマーク"スネーキーS"のメタルモールドはアーティストMicki Pellerano(www.mickipellerano.com/)によるデザインです。

チープサングラスとしてこのフレームデザインとクオリティは美味しい!

Color
ボーンフレーム
ブラウン偏光レンズ

*低価格のプラスチックサングラスです。フレームはオプティカルクオリティでは有りませんので度付きメガネには不向きです。
また、このシャイニーブラックはフレームのフィニッシュの特性上、仕上げにムラがあったり、微細なキズ、スレなどがございますので、予めご了承ください。

aesthetic influence - blues legend and style icon Lightnin' Hopkins! The sexy contours evoke the aesthetic of the finest cars, shades, and other exemplars of swoopy stylized mid-century design. Available in Shiny Black with Polarized G15 lenses, Matte Black with Yellow lenses, Bone with Polarized Brown lenses, and Turquoise with Gray lenses. Our first model to feature Micki Pellerano's new and improved Shady Snake metal mold! With inner logo by artist Avi Spivak! Made with recycled materials and they are recyclable! Comes in a Shady Spex logo soft case. Tougher and cooler and more unique than any cat eye you'll ever come across! And at these prices you'll have plenty of cash left over for gas money! MEOW! CAT EYE!
Add to Like via app
Reviews

(103)

Shipping method / fee

Payment method
¥3,630 tax included
SOLD OUT